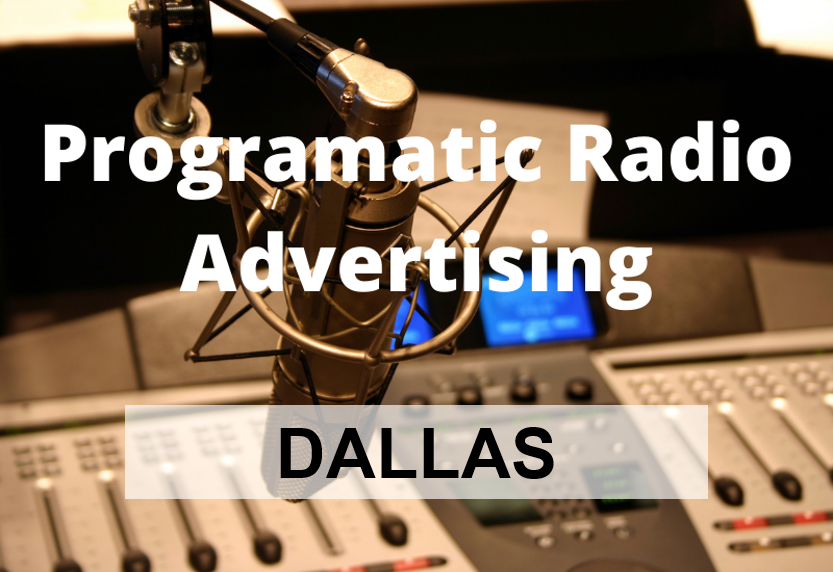 Many people make the mistake of advertising their business to millions of people who aren't guaranteed to be interested in the products or services that they have to offer. This is a huge waste of money and time when it comes to advertising.
Not only are you wasting time and money on this advert if you're not reaching your target audience, but you're unlikely to get much return on your investment, meaning you'll have to advertise again sooner that you would if an advert was successfully targeted.
However, in Dallas, there's a new option to reach out to the right people first time with Programmatic Radio advertising. This means that you can air your adverts to your audience in Dallas specifically.
Using Programmatic Advertising, you will be able to reach people in the Dallas area and air your ad to features at specific times between radio shows which your target audience is likely to enjoy. As you're placing your advert in at a time when your audience is already likely to be listening, you'll most likely see a higher conversion rate and a greater return on investment.
Ranwell Productions agency is a brand-new programmatic radio advertising agency in Dallas which focuses on targeting the right people in the Dallas area to help businesses make the most out of their marketing strategies.
They specialise in:
 Creating Brand Advertising
Recording Enticing Adverts
Optimizing Advertisements
Targeting Ads to a Specific Audience
Ad Placement & Broadcasting
Programmatic Radio Advertising – What does it Mean?
So, what is Programmatic Advertising? Well, Programmatic Advertising is a method that allows you to place adverts digitally across channels with a radio signal automatically. It allows you to access TV, radio, internet and mobile devices and place your adverts strategically to capture the customers who might be most interested in what you have to offer.
How Does Programmatic Radio Advertising Work in Dallas?
Dallas now has the capability to broadcast adverts specifically to the people who live there. This means that you'll be able to target the people who are most likely to visit your store or showroom, making conversion higher as sales are much easier if people want to go and check out the product in person beforehand. People also tend to like purchasing from local businesses, so local adverts will naturally draw in more custom.
Targeting the people who live in the vicinity means that you're also spending less money for a higher return, as you aren't wasting money on adverts that reach the whole of the U.S. – millions of people who aren't going to purchase, so the advertising space will be cheaper and possibly bring in the same amount of people as a global advert.
Ranwell Productions uses algorithmic technology to understand the habits and interests of the types of people that are likely to be interested in what you have to offer. They then advertise space using DSPs (Demand Side Platforms) based on the content either side of the advert.
Using cookie data helps to supply the platform with information to generate customer profiles. This means that an advertiser can determine the exact placement where their advert is most likely to do well, based on the types of people that will see or hear it. Conversion rates are then massively boosted as businesses can purchase the ad space using intelligent data, rather than random placement.
Ranwell Productions: The Most Effective Radio Advertising

Ranwell's advanced systems allow businesses to access accurate figures based on advertising placements across multiple advertising platforms. This means that businesses can see how the placement has performed in the past, what sort of audience accesses the placement via different platforms and when each placement gets the highest amount of traffic.
Due to these advances in technology, businesses are now able to fully customize their ad campaigns to suit the demographic that's likely to be viewing or listening and bring them right to your door. Ranwell's specialises in helping you to tailor your ads to ensure success. They'll talk through your business needs and help to evaluate your client base to understand the best advertising placements for you.
Once you've inputted your requirements, you'll have access to an interactive dashboard that helps you view the available ad placement space, understand the analytics for each space and select everything you need to run your ad.
Once you've decided on your perfect ad space and running time, you'll be placed into a bidding pool against other, similar businesses who might also want to advertise there. The highest bidder wins. This is a great system, benefitting the ad space seller and the buyer too. The space seller will get a fair price for the space based on how valuable it is (as the most valuable spaces will have more bidders). The businesses bidding also have the opportunity to opt out if the bidding price gets too high, so there's no overspend.
Radio Advertising Examples
Programmatic Radio Advertising is created using an algorithm to provide businesses with awareness of the interests and search history of audiences who access platforms at specific times during the week or specific hours during the day. This means that they can make an informed decision on where advertising might work best.
One example is, if someone is looking to purchase a car, they're most likely to look around the local area, as it's easiest to test drive. They'll look around car dealerships and on social media for Dallas and the surrounding areas. The information based on their search results will be available on a programmatic advertising platform for businesses to access. They can then place advertisements on relevant platforms for that customer at the times that they normally access.
Alternatively, a business selling wedding dresses or making wedding cakes may wish to target people who are planning a wedding. The search results of different people in the Dallas area will be considered, so if a business finds people searching for venues in Dallas or looking at favors, they probably want to grab the attention of these people.
Using this method might mean that your advert reaches less people than traditional advertising methods. However, more people doesn't necessarily bring in more business. It's all about the types of people. Reaching 100 random people might make one sale, while reaching 10 people already interested in your field of expertise might bring 8 sales, gaining a greater return on investment.
Consider Scaling Up
One of the biggest benefits of Programmatic Advertising is that you get to scale up gradually on tried and tested advertising methods. You can test out the statistics to see what works and what doesn't at a lower cost and you're able to pull out of the bidding at any time if the price gets a little out of your range.
Once you know which slots work, then you can gradually increase your range to cover more people as you gain more advertising budget. This means you'll always be within your budget, but able to increase your conversion for steady growth.
Assessing Your Data
The best thing about Programmatic Advertising is that you can keep an eye on your growth and look out for any other potential placements that might be beneficial to you by using the analytics dashboard. You can see exactly how many people your ad has reached in real-time, and compare placements with each other to understand which times and dates work best on different platforms without any guesswork.
Considering the Benefits of Programmatic Radio Advertising
Programmatic Radio Advertising is the future of advertising!
Displaying Your Advert to Your Target Audience
Traditional radio adverts simply use a random approach, where the ads are put out to more people across a wider area. However, because they're not tailored to a specific demographic, their success isn't guaranteed. It could be that the ad reaches thousands of people who aren't interested in the product. With Programmatic Radio Advertising, you can guarantee that the people you're reaching out to are at least interested in your product area, giving you a greater chance of conversion.
Staying Cost-Effective – Increasing ROI
Programmatic Advertising ads are typically a little cheaper than traditional ads as they reach less people (although the audience they do reach gives a better chance of success). The bidding set up to purchase your space also means that you'll never have to pay more than you think that advertising space is worth.
How to Scale Up
Our Programmatic Advertising platform presents the very best opportunities to reach out to relevant audiences within a set budget. It gives you complete control over your investments and the analytics ensures you get a great return.
Staying in Control
Deciding who will see your ad and when is totally in your hands. This means that you have greater autonomy over what you put out into the ad space and have greater control when it comes to chopping and changing elements if you discover they don't work for you can be as efficient as possible.
Testimonials
Skeeters Mesquite Grill
The Radio Ads Would Refer To Skeeters As The "Go-To" Local Based Restaurant For Mesquite Grill
The Radio Ads Alone Resulted In A 48% Increase In Sales Within The 1st Year
Let Us Talk If You Are Interested

If Programmatic Advertising sounds like the right choice for you, we'd be happy to talk you through the process and how you could make it work. We'll discuss your goals and your future and connect you with the best platforms to get your advertising journey started. Book a call with us today to see how we could help!

Alternatively, Phone Us Direct on:
Or contact us by email using the form below
Take a look at our other advertising platforms in Dallas: –
Programmatic TV Advertising in Dallas
Billboard Advertising in Dallas
Programmatic Advertising in Dallas