Traditional vs. Digital Billboard Marketing
Billboards are one of the oldest running forms of advertising and we see them wherever we go. A billboard is a giant sign by the side of the road or on the street advertising a specific product or service. They're designed to be eye-catching and encourage anyone that sees them to find out more.
In more recent years, with the takeover of digital marketing through social media platforms and on TV, a new form of billboard has been developed – The Digital Billboard.
What is a Digital Billboard?
A digital billboard is a large sign at either the side of the road or on the pavement. Rather than supporting a standard poster, instead, they replicate TV screens, showing a range of moving picture advertisements.
Some smaller digital billboards are also interactive, inviting passersby to tap them to change the image or by showing pictures of them on the screen, just like a mirror.
The Benefits of Billboards
Captures a local audience
Billboards are an excellent way to capture the interest of the local residents. If you place a billboard on a road near a town or city, then the people who regularly drive down that road will see it and are more likely to visit the store in that local area because it's fresh in their mind when they drive past the physical store.
Do Billboards Truly Boost Conversion?
The answer is yes! Based on survey results, lots of people do actually purchase products from a billboard referral. However, the actual figures on conversion rates are difficult to prove. This is because it's difficult to capture every individual that was influenced by a billboard before making that purchase.
How Can a Digital Billboard Pull in New Customers?
Customer involvement
A digital billboard provides people with a more personalised experience. If you have something that the customer can interact with by touching the screen, they will immediately feel more connected to the product or service being offered and are more likely to tell others too, increasing your advertising reach.
Eye-catching graphics
Moving graphics are designed to grab the attention of people passing and are much more likely to draw the attention for longer than a static image, as people will watch until the end. This gives an increased chance of memory recall later.
More than one advertisement in a single space
A digital billboard also has massive benefits for the billboard owner who rents out the space to local advertisers. It means they can use the same space for multiple advertisements on a rolling carousel, so there's more revenue to be gained for the same amount of space.
Updating digital billboards
Once you've created your advertisement, updating, and amending it across multiple advertising spaces is likely to be much more cost effective if you're looking at using a digital method. This is because the billboard is controlled from a central hub and your advertisement can simply be uploaded.
With a traditional billboard, you would need to pay a person to physically go around changing the posters which will be more time consuming and cost more money. If you don't regularly update a traditional billboard, you're also in the position that your poster may become ripped or weather damaged and look incredibly unprofessional. A digital billboard won't age or suffer weather damage, so will look as new as it did on your campaign launch date.
Traditional Vs. Digital Billboards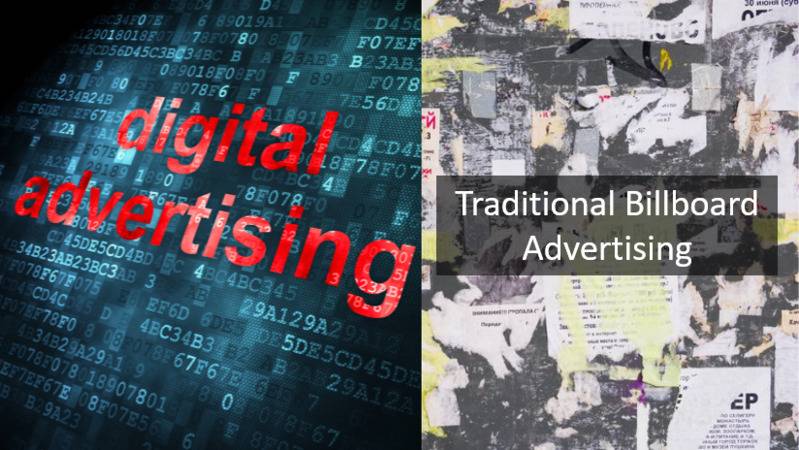 Are There Any Downsides to Digital Billboards?
Although digital billboards are an excellent idea and are an amazing, modern form of advertising, there are some things that you'll need to consider before going ahead for a digital advertisement campaign.
Costly to reach a smaller audience
A digital billboard is likely to be more expensive as advertising space as the maintenance of the billboard itself will be much more expensive for the owner.
You also need to consider the cost of making a digital advertisement in comparison to the cost of using a traditional poster.
Overall, a digital billboard will cost you more money, there's no hiding from it. You'll just need to weigh up whether that's worth it for the audience you may reach.
Changing screens can move too quickly
You really need to consider how your advert will appear to your audience. Screens that move too quickly will likely put your potential customers off as they don't get the full message. You should discuss the amount of time in seconds that you have on the billboard and gradually change the image, so people are easily able to keep up. You should consider that the final image on your advert will be the one that your customers will remember, so ensure this stays on the screen for the longest.
Many businesses make the mistake of trying to cram too much information into a digital advert, meaning it's more difficult for your audience to digest.
Quite common – passersby may tune them out
Digital billboards are becoming increasingly common, especially in cities. This means that your advert needs to really stand out from the crowd to be noticed. Make sure your images are bold, clear and give the right message and remember that interactivity goes a long way!
Verdict
A digital billboard is likely to be more costly for your business. However, if you have the money to spend, it can be a worthwhile investment as it covers more area, therefore reaching more potential customers, leaves a longer lasting impression on your customers and is easier to change and update so you can keep your advertising campaign up to date and moving with the times.