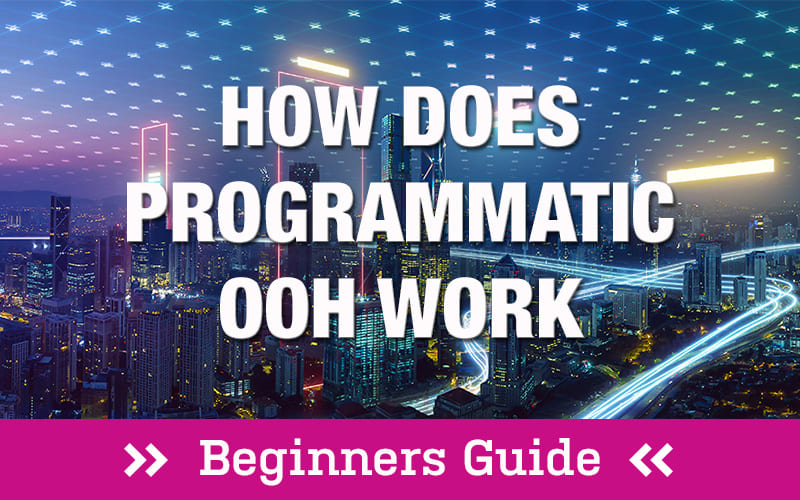 How Does Programmatic OOH Work – Beginner's Guide?
Advertising comes in many forms and one of the most important, but possibly least thought of these days is out of home advertising. This is anything that your potential customer base can view and be converted by while they aren't in their homes.
Popular out of home advertising includes billboards, building posters, traffic signs or anything that can't be accessed from inside the home.
What is OOH Advertising?
Traditional out of home advertising occurs when a company agrees to purchase advertising space on billboards, building spaces or vehicles to
advertise their business. This helps them to reach a local audience and bring traffic through their doors to increase conversion and profits. Out of home advertising is typically purchased near to places where the business believes may be frequented by their customer base. For example, if you're advertising a restaurant, then a city centre may be the ideal location as you'll capture the attention of people who are in the area looking for a place to eat.
How Does OOH Advertising Benefit Your Business?
Using out of home advertising can help you to reach out to your local community to increase the amount of people visiting your local business. Out of home advertising is a fantastic way to attract the attention of people who are most likely to go into your store.
Out of home advertising also helps if you have a larger business with multiple locations as traveling out of home advertising on vehicles can reach more people across the country during travel, or billboards could reach out to people traveling from A to B.
These forms of advertising don't require access to the internet or live TV or radio, making them more accessible to everyone. This could even convert some people who weren't in your proposed target audience as they catch the advertisement in passing.
The Best Way to Discover Advertising Opportunities
Out of home advertising works really well as long as you're targeting the right audience. While your advert is out in the public domain, you might be reaching your target audience, but you'll also be reaching a lot of people that aren't interested in your product or service.
To capture more relevant people, programmatic advertising can help you to discover the best available OOH spots that will be viewed by your target audience specifically, helping you access more relevant people.
How Does Programmatic OOH Work?
Programmatic OOH advertising allows you to access the data from the phones and cars of people passing each out of home advertising spot. You'll be able to see the sorts of interests that people passing each space have, allowing you to tailor advertising to that demographic.
Programmatic advertising uses a Demand-side Platform which allows advertisers to input their details and their parameters for their specific target audience based on their product. The platform will then make the advertiser aware when an advertising space is available in an area that is frequented by this audience.
This can include interests based on social scrolling, the age and sex of the audience and the time that they normally pass by the spot. For example, people selling office supplies may want to capture working professionals on a busy road on their commute to work.
Once the demand-side platform has flagged a viable space, the advertisers can bid for the space on a real-time bidding platform.
What is Real-time Bidding?
Real-time bidding allows the advertiser to select a space that they want to use for advertising purposes and bid against other potential advertisers to win the space. This means that more valuable spaces that are in high demand will go for a higher price. Plus, the advertiser can get an accurate reflection of how much the space is worth because others are bidding and showing how much they're willing to pay.
This process means that the advertiser can pull out of the bidding at any time and will never find themselves paying over the odds.
If real-time bidding doesn't work for the advertiser, they can also opt for automatic purchasing. This process buys the space as soon as the exact specifications that meet with the advertiser's target audience are met.
What Are the Benefits of Programmatic OOH?
Programmatic out of home advertising offers a full range of benefits for the advertiser and the seller too.
Access to target audience
Programmatic advertising gives you access to the data to ensure you find those target demographics that will be specifically interested in what you have to offer. You'll be able to track their routine, understand the times when they're likely to walk by your advert and tailor it specifically to their needs.
Weather condition changes
With digital billboard advertising, this also means that you can tailor your adverts to what is going on in that area at the time. Because you'll gain location data, you could have separate adverts based on the weather
conditions. You may want to display one ad when it's sunny and a different one when it's raining. These reactions to the immediate area will make the audience feel that it's more personal to them and they're more likely to form a connection with your brand.
With traditional advertising methods, each company would need to plan in meeting time and negotiate a price for advertising space. This might mean that the advertiser was paying more for the space as they have no one to compare the value with. Essentially, in this scenario, the seller can charge what they like.
With programmatic out of home advertising the buyer can see the value of the space based on what other advertisers are willing to pay and can pull out at any time so they can pay a price they're happy with.
The seller also gets a higher price for the most valuable spaces without having to negotiate, so it's great for them too.
Higher conversion with less effort
Research takes a lot of time and effort, and a company would typically employ someone specifically to look into the target demographic, create customer profiles and decide where the advert would be best placed.
With programmatic advertising, all this time and effort is removed. You'll be able to see at-a-glance which advertising spaces will be most suited to your company, meaning you can hit the ground running.
No more trial-and-error ad
Normally, with adverts, you would need to assess a range of areas and distinct types of ads to understand which one reaches most of your target audience and gives you the biggest ROI. However, with programmatic
OOH advertising, you can already see where your target audience is, so you're more likely to get a successful ad first time.
Summary
Programmatic OOH advertising will help you to make the most out of your advertising campaign for a fair price. You'll gain a greater ROI, a better understanding of your customer base and increase your conversion rate using intelligent and up to date data.