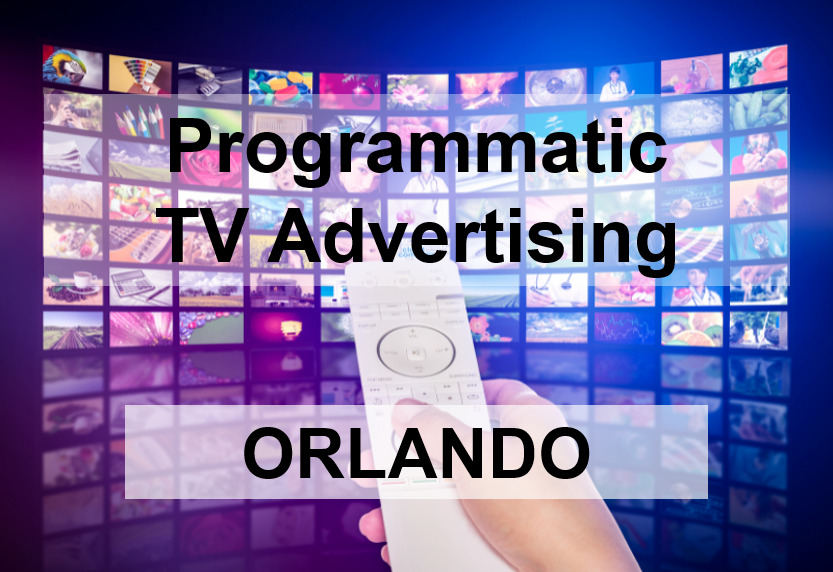 Programmatic TV Advertising is a method which gives businesses the opportunity to broadcast their TV adverts specifically to the people that they feel will be interested in their products or to people in the immediate vicinity to encourage an actual visit to their stores. Targeting the people that are most likely to like the products on offer will increase conversion rates and in-turn, business profits.
The Programmatic TV Advertising method can focus on a particular area, in this case, broadcasting specifically to Orlando. This means you'll reach a more relevant audience with the ad, and it will also cost less money for the placement as fewer people will see it. In this case, fewer people could actually mean more sales though, as they are relevant customers, meaning you'll secure a higher return on investment while spending less of the marketing budget.
Ranwell productions provides amazing and expert Programmatic TV advertising services across Orlando to help businesses with:
Creating fantastic adverts
Filming & editing
Optimization to maximize conversion
Advert placement
What Is Programmatic TV Advertising?
Programmatic TV advertising is an automated advertising process which allows businesses to bid for specific advertising spaces on TV which will capture their target audience. This is done using location data and cookie data from radio connected devices to determine where people are and what their interests are to segment an audience. Because the advert is reaching specific people who are most likely to be interested in the products or services, the business is likely to receive a higher return on investment because more of the audience captured is converted.
How Programmatic TV Advertising Works
Orlando is now lucky enough to support Programmatic Advertising, meaning businesses are able to be selective about the positions that they place their advertisements and can show their ads to specifically people within Orlando.
To do this, algorithms are used to recognize how much traffic each ad placement receives, giving the business and idea how successful it's likely to be in the future. It can also provide information on the most likely audience types that will see the ad, based on online data. Knowing exactly which types of people are going to see a specific ad placement on the TV will allow the business to tailor the ad to those exact people, meaning that they may be more interested and convert to make a purchase.
The whole process takes place on a demand-side platform (DSP), where businesses are able to enter their specific requirements regarding their target audience. The platform will then flag up when a suitable placement is available.
Alternatively, a supply-side platform allows the sellers of ad space to approach the businesses based on their requirements, should they have a suitable position available.
Once an ad space has been settled on, the buyer enters into a real time bidding platform to bid for the space against other interested businesses. The highest bidder wins. This means that the spaces with the most traffic for that audience go for the highest value, as more people will want to use them, but also, that businesses with a limited budget can pull out at any time, so they don't overspend.
How Ranwell Productions Deliver the Most Effective TV Advertising
Ranwell Productions has an interactive dashboard to show the real time data for each of the ad placements. This means that businesses can see up to date information regarding the amount of traffic each placement has and the demographics that watch the ad. It gives an idea of how valuable the placement is to each business. Ranwell can also help you to discover the best placements for your business based on your brand and target demographic, so there's no need for any market research or time spent with trial-and-error ads.
Ranwell Productions can also help you to prepare your ad to fit the space that you've found and then begin the bidding process with you to achieve the most suitable position within your budget.
When you bid, you're likely to be up against businesses with a similar target demographic to yourself. If they have a larger marketing budget than you, it may mean that they outbid. However, with Ranwell, it's possible to secure great ad positions without breaking the bank, by reaching out the the right audience. Even if you make a few sales from your first ad, that's a little more budget that you have for next time around, so you can easily scale up based on the actual facts and figures.
Example of How it Works
When someone is getting married, then their internet search history will show that they've been looking at dresses or rings or even wedding venues. The cookies that they accept when they enter each webpage will help to determine when these people are active and where they are using location data. This information will be used within the Programmatic TV algorithm to help businesses selling dresses or favors to reach the people that are looking for those things at the times when they're sat in front of the TV or watching online ads. Basically, putting whatever they're searching for right in front of them.
The data from your advert will then be kept on file for the future to help the algorithm determine which slots are valuable depending on how much traffic they receive. This helps you and other businesses to scale up in the future.
Scale Your TV Ads
The beauty of this process is that you can adjust your demographic remotely if it's not working out, much like a real time version of A/B testing, without the money wastage. When you first start out, you'll be testing out ad spaces against your target demographic. Once you've got it just right, you can start to expand your reach gradually, meaning you'll spend a little more money for more competitive ad spaces, but you'll start to see a larger return on investment, just because you're sending out your ad to the most relevant people and growing your audience each time you post and advert.
View Your Stats & Data
Ranwell Productions provides access to a full reporting dashboard which updates in real time. This allows you to track the success rates of any advert you post and make changes along the way. It's completely interactive and gives you visibility across the whole advertising platform. So, if you see an ad space that might work out better for you, then you can easily switch it to aid growth and conversion.
Benefits of Programmatic TV Advertising
Programmatic TV Advertising has a wealth of benefits for businesses worldwide and is becoming the preferred method of advertising due to the ease of scaling up and increased ROI.
Show Your Ad Only To People Who Are Interested
Traditional advertising on TV is shown to everyone, regardless of where they live and what they're interested in. This often means that the ad space is incredibly expensive and the majority of people who see it won't go on to make a purchase with you. However, putting your ad on the TV in Orlando only and at a certain time of day to capture the right audience – for example, people who may be full time parents – popping this on during the day, or between children's TV, will mean that those people are much more likely to make a purchase. It's better to show to 100 people if 20 of those make a purchase than 10,000 people, where only 10 might.
Lower Ad Spend Greater ROI
The idea of Programmatic Advertising is that you only reach the people that are relevant and will be interested in your offering. This means that your reach will naturally be smaller. It might only be people that live within your area. However, having less reach will make the advert much cheaper, as traditionally, this would mean less return. But with Programmatic Advertising, reaching these people only will make your ad more successful and give you a greater return on investment.
Scalability
It's sensible to start off small and grow your business gradually to ensure you can maintain your service as you grow. Programmatic Advertising gives you the opportunity to find the most valuable audience for you and send your ads directly to them. This is cost-effective as it presents to a smaller audience, but is more beneficial, as the smaller audience is more likely to make a purchase. The more you increase your conversion through smaller, successful ads, the more you'll be able to spend to grow.
You Are In Complete Control
With Programmatic Advertising, you're able to see exactly how successful your advert is in real time and make changes to the branding, ad content or ad placement remotely, giving you complete control of how it runs. You don't need to wait for drawn-out negotiation meetings or endless printing processes.
Let Us Talk If You Are Interested
Programmatic TV Advertising is the way forward for many businesses. It helps to drive the right kind of traffic to businesses to increase conversion and helps to scale up towards long-term goals, while staying within your marketing budget.
If you're ready to see what Ranwell's Productions can do for your business using Programmatic Advertising, then get in touch today by selecting the button below!

Alternatively, Phone Us Direct on:
Or contact us by email using the form below
Take a look at our other advertising platforms in Orlando: –
Programmatic Advertising in Orlando
Programmatic Radio Advertising in Orlando
Digital Billboard Advertising in Orlando