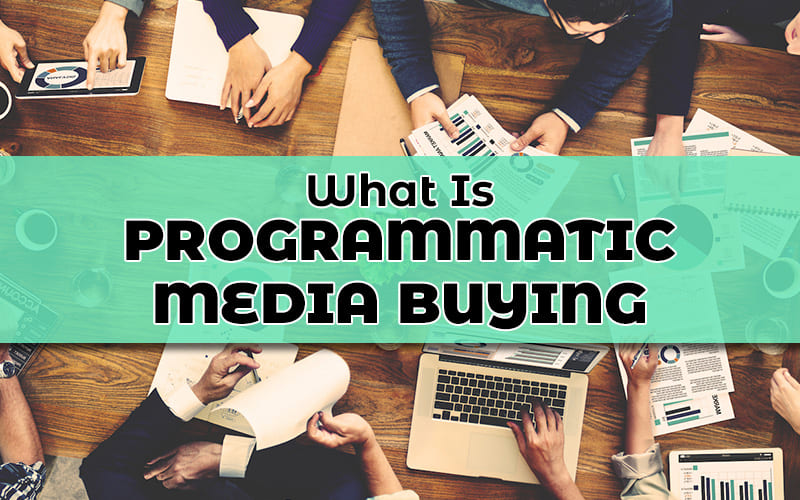 What Is Programmatic Media Buying
Many businesses have never heard of "programmatic Media Buying". It is not a very familiar term or process, even for businesses that are focussed specifically on marketing. The reason for this is that is it relatively new. However, this process is capable of impacting highly qualified users for your brand, products and services.
If you want to generate Leads and quality traffic for your business, then read on as we unwrap this highly profitable marketing platform.
What Is Programmatic Media Buying?
Until recently, digital advertising has been based on pairing relevant ads with relevant sites to reach conversion segments. However, programmatic purchasing in digital media has now achieved the ultimate in targeted marketing.
With the power and accuracy that programmatic offers, businesses can now plan their budgets to target only people that are their exact demographic, and only those customers who really have an interest in their product or service. This is one of the advantages of programmatic media buying and is the advertising model that every company should be seriously looking at to boost leads and sales.
More and more systems take advantage of the technology, which has the capability of being able to relate in real time the main factors of the purchase and sale process of online advertising. One of them is programmatic media buying, a new digitally automated way to buy advertising space.
The operation of this online advertising approach is based on taking advantage of the algorithms of the DSP (Demand Side Platform) platforms. In this way you can simultaneously access global inventories with thousands and thousands of advertising options that are adjusted to the features you are looking for.
How Does Programmatic Media Buying Work?
This process / platform is based on the combination of the Royal Time Bidin G (RTB) and the Big Data, that is, it is a model that bids in real time for each impression. It handles multiple terabytes of data that provide the criteria for you to bid for an impression or other action.
Advantages of the programmatic purchase of advertising
All this involves numerous advantages as opposed to the traditional models of the purchase of digital advertising:
Targets a segment: Programmatic buying targets an already segmented sample of users, those customers who are really interested in what your brand offers, those you really want to reach. This is possible thanks to certain algorithms that take into account various aspects of user behavior in the digital environment, not just their profile.
A single channel: All the processes and the different factors of digital advertising (advertisers, agencies, Adserver, etc.) come together in a single channel that is completely automated, therefore simplifying the process and saving time and money.
Greater coverage: Through programmatic buying your ad campaigns can achieve a far greater success level than compared with traditional methods. With this new trend, different segments of customers interested in what is offered can be brought together and you can then reach them in the masses. You will be able to optimize prices in real time and with the performance data, you will be able to streamline your campaign to increase your return on investment in a way that has never before been possible.
How To Take Advantage Of Programmatic Media Buying
Due to new technologies, programmatic buying is in continuous evolution. Already in recent years it has not stopped changing and thanks to the evolution of this technology, we can outline a couple of ways that you can make programmatic purchases:
#1: The Open Auction or the Open Exchange
In this business model there is no direct relationship between the support and the advertiser, but the support allows access to the inventory to all advertisers so that they can buy it. However, although the inventory is open to all advertisers, there are certain restrictions such as advertiser block lists, ad quality controls, minimum prices, etc.
#2: Private Ad Exchange
Access to inventory in this business model is restricted to a small group of buyers. We find two scenarios:
Private auctions: similar to the open auction, but always restricting access to a certain group of advertisers by selecting a few. In this case, the support sends an invitation to the selected buyers through the deal ID and sets a minimum auction price for the advertisers in question to bid among themselves before the open auction does so.
Private agreement or Preferential access: similar to the previous scenario but with the difference that there is no auction, but rather the support and the advertiser establish a direct relationship. The operation is as follows: a fixed price is negotiated, and the advertiser decides if he is interested in buying all the inventory that the support makes available to him.
Programmatic Media Buying – Definitions
We could define programmatic media buying as an automatic direct sale. That is to say, the support guarantees an inventory reserve while the advertiser agrees to buy it, having agreed on the price and the inventory.
Programmatic buying is based on the assumption that the buying party's decision making, is based on many informed parameters that are determined in real time. In other words: we see, in real time, who we have the opportunity to impact with our ads, we analyze that user based on their behavior and web browsing (fingerprint), we validate all this data prior to the purchase decision and we decide, out of all the advertisers we have, the ad we show the prospect.
Therefore, instead of buying audience by the mass, we choose individual by individual based on the following attributes:
Who they are
What their interests are
How relevant that user is to our brand
How likely they are to convert and make a purchase, etc.
All in real time!
The idea is that the transaction ends up being equally interesting for both parties: that the advertiser obtains a certain return, and that the potential consumer receives information of value and relevance.
Real Time Bidding (RTB) enters into this whole process, which corresponds to the act of accessing inventory and buying advertising space in an automated way, without any type of human intervention. Thus, the support determines its selling price, and the buyer determines its purchase price. If these amounts coincide in an Ad Exchange (marketplace where the sale takes place), the operation takes place. To improve segmentation and make the proposals of both parties fit, attributes such as gender, age or geographical location, among others, can be added.
The characteristic that "moves" this model is transparency. And it is that, throughout the process, the advertiser can follow the progress and status of his investment. In fact, he knows how much he paid for each impression and can decree the success or failure of a campaign based on previously agreed terms.
So is programmatic buying the same as real time bidding or RTB?
No, it is not. Real time bidding, or RTB, is one of the programmatic ways to buy ads, but there are many more. The RTB refers to the purchase of advertisements through bets that are carried out in real time. However, programmatic buying allows you to make purchases in advance on specific sites and guaranteeing a specific number of impressions, among other things.
1. Advertiser
This is the person interested in their advertisements being displayed on web pages related to its theme, so they decide both the money allocated for this purpose and the audience it is going to impact.
2. Publishers /publishers/affiliates
They are the online portals that offer and sell their inventory (advertising space). The moment they connect to an Ad Exchange, real-time auctions of their impressions can begin. In the case of affiliates, they are groups of small and medium-sized publishers that obtain greater bargaining power by being united than if they did it independently.
3. Media Agency
They are hired by advertisers (their clients) to buy advertising space, so they can be said to be intermediaries. They agree on the objectives of the campaign, but only the agencies are responsible for their fulfilment and good results. What it does, to do this, is invest the advertisers' budget in the inventory of the platforms that are relevant to them and suitable for obtaining a great success in the campaign.
4.Ad Exchange
This is the place where supply and demand come together and where the matching takes place that causes the operation to take place. It can also be said that it is the system that allows the RTB purchase model to be carried out , since it provides the necessary technology to facilitate the automation of auctions in real time. On the one hand, advertisers choose which impressions are most interesting based on the buyer persona they want to reach; on the other, the publishers indicate the inventory available for sale, its corresponding price and what type of advertisers can access the purchase of their spaces.
5. DSP (Demand Site Platform)
This is a platform that allows advertisers and publishers to access the purchase of inventory in different Ad Exchanges. The DSPs are connected to all the Ad Exchanges in the market, which means that Ad Exchange does not have to be consulted by Ad Exchange, thus facilitating the purchase process.
6. SSP (Supply Side Platform)
It is an advertising platform that makes it easier for both publishers and affiliate networks to enter the platforms where the demand is located, such as the Ad Exchanges, the DSPs or the Trading Desk of the agencies (associated companies within their organizational structure that use DSP technology to work with programmatic advertising).
7. DMP (Data Management Platform)
This is a platform that enables the collection, organization and management of audience data from any source. This data can be 1st Party Data, when it is collected by the advertiser itself through its channels, or 3rd Party Data, when the information comes from one or more external sources.
8.Ad Verification
This is a type of technology that prevents ads from being displayed on undesirable sites, such as adult, gaming, or illegal download sites.
Programmatic Buying Is Now Mainstream And On All Devices
The drawing above outlines the percentage of brands and agencies that are purchasing programmatically in the various media channels. Bear in mind that brands and agencies will purchase programmatically for more than one platform, but you can see how big the brands and agencies are getting into this: –
84% purchase programmatically for display advertising
60% purchase programmatically for mobile advertising
58% purchase programmatically for video advertising
32% purchase programmatically for social advertising
26% purchase programmatically for search advertising
8% purchase programmatically for TV advertising
The world is changing at a speed and rate that has never been seen before. Furthermore, this pace is accelerating, and businesses that don't take hold of these advances will get left behind by companies that grasp these powerful marketing processes. These processes enable better leads and sales and in greater number for a lower ad spend. It is truly remarkable.